Imagine a world where companies choose to invest in people and the planet, rather than being driven by profit alone. In this world, business decisions would be led with environmental and social impact in mind. Sounds unrealistic, right? 
But no – this ideal world doesn't have to be an imaginary one. In fact, it's already happening. By now you have probably heard the term 'B Corp', or possibly seen the logo around, or it might be new to you. Either way, it can be a tricky concept to get your head around so let's break it down.   
What are certified B Corporations?
Certified B Corporations are a community of global companies and organisations building a movement towards a new, regenerative economy: one that balances profit with concerns for people and the planet.  
Essentially, this movement believes our global problems to be so ingrained that they cannot be solved by governments and non-profit organisations alone. That's why these companies are joining en-masse do better for our future.  
All B Corporations have been rigorously assessed to ensure that the way they operate significantly benefits people, society, or the planet. This is one of the fastest growing social impact communities – B Corps are completely dismantling out-dated structures of business and building something far, far, fairer.   
How do B Corporations become certified?
Certified B Corporations have gone through a stringent assessment and auditing process. Over 200 aspects of their business have been analysed to ensure that they are meeting the highest standards of social and environmental performance, transparency, and accountability. Their commitment is also worked into their legal documents.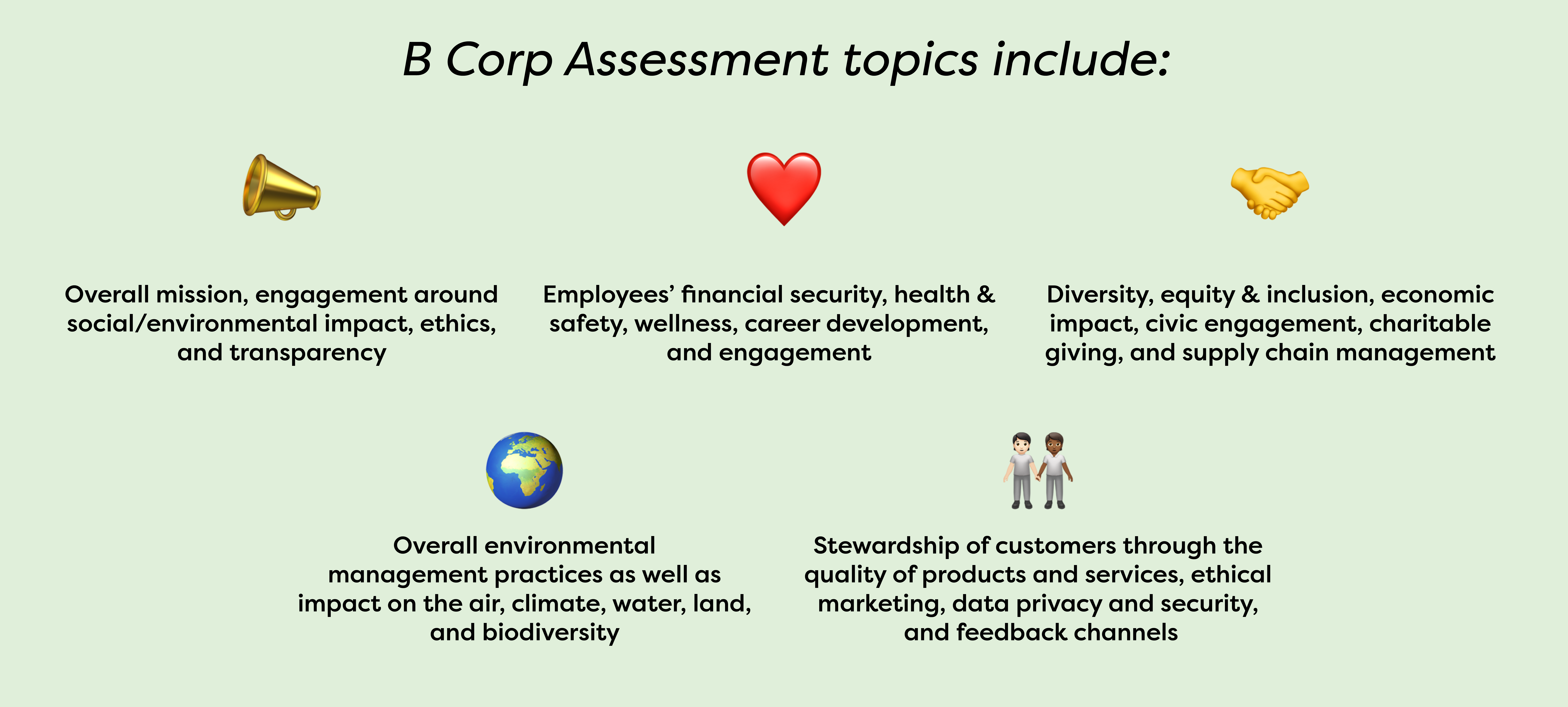 Some companies certify within 6 months, but it usually takes significantly longer. Most companies that display the 'Certified B Corporation' logo have invested hundreds, if not thousands, of hours of time, and have been through at least three stages of certification – so believe us, this accreditation is much more meaningful than a performative logo slapped on a package. It seriously is!   
What types of companies are B Corps?
All types of businesses in the UK are B Corps: from beauty, fashion and food brands to online supermarket, gyms, and travel companies. B Corps are comprised of for-profit companies – sole traders are eligible to certify, and partnerships, mutuals, and cooperatives are usually eligible too. 
If the business is willing commit to making positive change and can verify that they are doing this, then the community welcomes them.   
There are now over 4500 certified BCs globally and over 600 in the UK. The UK is home to the second largest B Corp community in the world and we are witnessing growth like never before.    
Things you can do to ensure your money is invested ethically…
From buying less, sourcing fair-trade products, visiting charity and second-hand shops, to supporting small, local businesses; there are plenty of ethical options available when choosing the types of places that we invest our time and money into. B Corp is another impactful tool to use to contribute to a better, fairer world and there is literally something for everyone… 
🍷 Pick up a can of English sparkling wine from The Uncommon; a locally grown, sustainably made, and always bubbling UK wine maker. 
✨ Treat someone you love with the first B Corp Jewellery brand in the UK: Yala, jewellery with purpose. 
🖼 Buy sustainable art from Kongstad Studio. 
👙 Consider Y.O.U. Underwear, the sustainable brand that believes underwear should be universally available to people in all communities. Changing the world, a pair of pants at a time. 
🍫  Treat yourself with a bar of Tony's Chocolonely, a B Corp committed to abolishing modern slavery in the supply-chain. 
✂️ Get a fantastic haircut with Bluetit, a London-based salon for the sustainably conscious. 
🏠 For those in the mortgage market, consider choosing Habito, who are revolutionising the old school industry by making mortgages easier and more accessible. 
📱 Upgrade your mobile network with the only carbon negative mobile network in the UK, Honest mobile. 
This is just a small fraction of the amazing B corps to be aware of! 🙂 
Spread the word!
There are a multitude of things we can do to enact long-lasting social and environmental impact, and certainly no single answer to the world's problems. Positive change starts with ethical ideas and community action.  
You might be a part of many different groups, communities, and organisations looking to fight for social and climate justice. B Corp is another powerful movement worth joining – and one that is growing exponentially!  
Next time you're shopping online for a new book, at the supermarket buying chocolate, or grabbing some wine with friends, hopefully the B corp logo can influence you towards an ethical option. If you can, why not choose B Corp? 
We should no longer accept a world where businesses are devoid of meaningful purpose. Let's spread the word about the B Corp Community and use their aims for an equitable, purposeful economy as a guiding framework for action. Our future can't wait. 
Useful links:
Online shops like
Boots
,
Ocado
, and
Waitrose
allow you to filter your shopping by B Corp.